Thank you to everyone involved in Hockey Hold'em III!!!!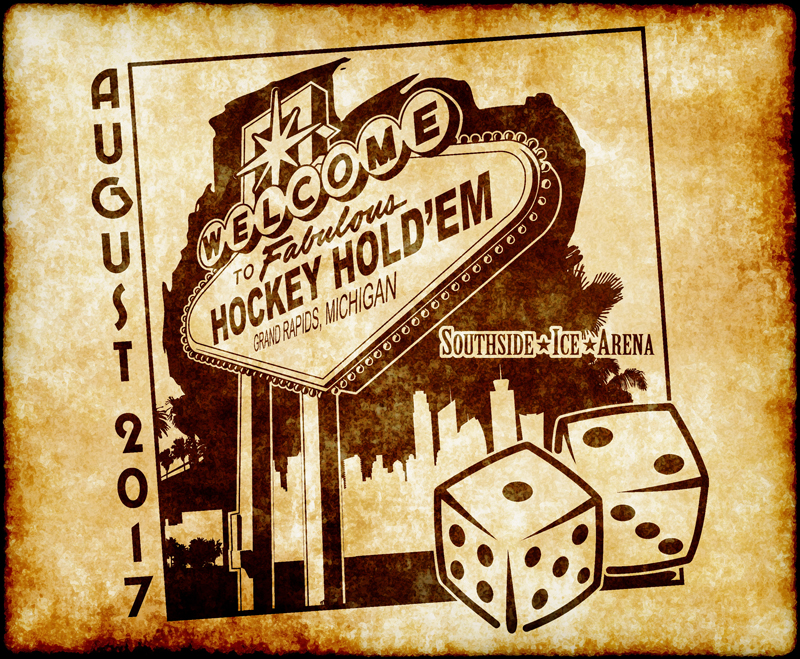 Thank you everyone involved in Hockey Hold'em III . . . It was truly an exciting weekend of hockey. Before we get into the highlights of the weekend, lets take a moment to acknowledge our sponsors that gave some much to the event.
First of all we would like to thank Grand Traverse Distillery for the great gift of a spirits tour for four (4) at their distillery. This gift was won by Alex Kellogg who was our overall chip winner for the tour. The Grand Traverse Distillery will have a Grand Rapids, Michigan location opening up very, very soon. You need to check it out! Next on the list to give appreciation to is Andy Skiver/Colleen Bennett of the Kings Room, whom donated over $300+ in products to all the Hockey Hold'em champions. Everyone that won at this tournament will be looking good in the days, weeks, and month's to come!!! Stop in anytime to get a great haircut from the best hairstylist around. The New Salem Corn Maze also gave away free passes to their Witches Woods and Haunted Corn Maze attraction for the upcoming haunting season. Personally, I can't wait to scare the living day lights out of the winners of these passes!!! We also have free popcorn given away by Cosmic Candy, they are ready to open very shortly in the Woodland Mall. You will have to check them out and get some great stocking stuffers for the 2017 holiday season.
We would like to also thank Mike Slobodnik and Dave VanDrunen at Southside Ice Arena for such an amazing weekend. We really appreciate the ice time, helpful staff and space have our cookout and let us hockey players . . . well, be hockey players!!! We are already looking forward to Hockey Hold'em IV.
Finally, I would also like Charlie Ely III and Josie Sundberg for scheduling the officials, working the games and always making sure things run smoothly on and off the ice. Your assistance is so greatly appreciated. Josie, thank you so much for guiding me to the online Google Sheets experience. You made the calculation portion of the tournament run perfectly!!!
Now to direct you to the highlights of the Hockey Hold'em III weekend. A full breakdown of Hockey Hold'em III can be found in our archives. We would like to congratulate this year's Hockey Hold'em champions. It was a great match up between Team Bure and Team Sakic. Both teams played and fought to the absolute end, making this game one of the best finals so far. This finals was also the first to end in regulation and have the winning team wearing lights/white jerseys. It would be Team Sakic with the win with a final score of 5-2 (EN by Alex Kellogg, GWG by Tony Karczewski).

Congratulations to Rani Vitali on becoming a three-peat champion of the Hockey Hold'em tournament. It would take 1850 chips to make it to the finals and that was exactly what you had in your bank. Be ready to go . . . Because next year you will be going for four straight championships!
scoring by period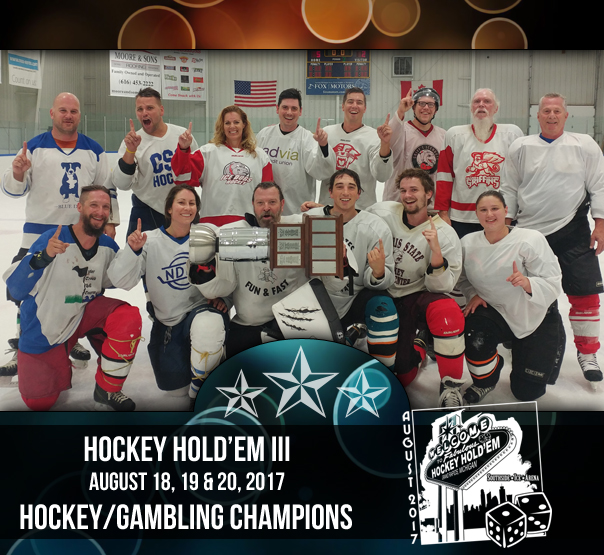 10 games played, 3.80 avg. goal differential.
1st Period: 27 goals
2nd Period: 41 goals
3rd Period: 31 goals
Overtime: 0 goal
Total Goals: 99 goals
goalie stats for hockey hold'em iii
Luke Jonkman: 2.00 GAA (4 Games, 2-2-0)
Gabe Bolen: 3.67 GAA (3 Games, 2-0-1)
Adam Lussier: 4.50 GAA (4 Games, 3-1-0)
Nate Petter: 6.67 GAA (3 Games, 1-2-0)
Shannon Hole: 7.00 GAA (3 Games, 2-1-0)
Jordan Kubiak: 7.33 GAA (3 Game, 0-3-0)
2017 chip leaders & champions:
Alex Kellogg (12800 Chips)
Brian Van Der Heide (10000 Chips)
*Adam Lussier (G) (8400 Chips)
Jabez Waalkes (7600 Chips)
Tony Karczewski (7200 Chips)
Jim Kellogg (6800 Chips)
Jordan Schwartz (6400 Chips)
Chaslyn Duffek-Gofton (6400 Chips)
Brent Belanger (5600 Chips)
John Habel (5400 Chips)
Rebecca Wheeler (5200 Chips)
Paul Penninga (5100 Chips)
Brant Morgan (4000 Chips)
**Rani Vitali (3700 Chips)
*Back to Back Champion
**3-Peat Hockey Hold'em Champion
hockey hold'em history facts
Years: 3
Games Played: 27
Participants: 111 Different Participants
Most Wins: 8, Alex Kellogg, Adam Lussier (G), Rani Vitali
Most Titles: 3, Rani Vitali
% of Champions/Participants: 32%, we have 35 different champions at Hockey Hold'em. We have had 111 different participants involved in the event.
Players w/o a Win: 10, with 111 total participants over the years of Hockey Hold'em, 90% of the participants have at least one (1) Hockey Hold'em win.
Most Chips Won/Single Tourney: 12,800, Alex Kellogg
Most Shutouts: 2, Luke Jonkman
Most Lady Lucks: 2, Mo Squiers
Most Goals Event: 99, 2016 & 2017
dekes & dangles iii - coming winter 2018
Once again, thank you everyone that participated in Hockey Hold'em III. We are now shifting gears once again and preparing for Dekes & Dangles III. Stay tuned because information will be posted shortly. Start thinking about your teams and brackets. Brackets will be similar to the Silver Puck Challenge.