Dekes & Dangles Rules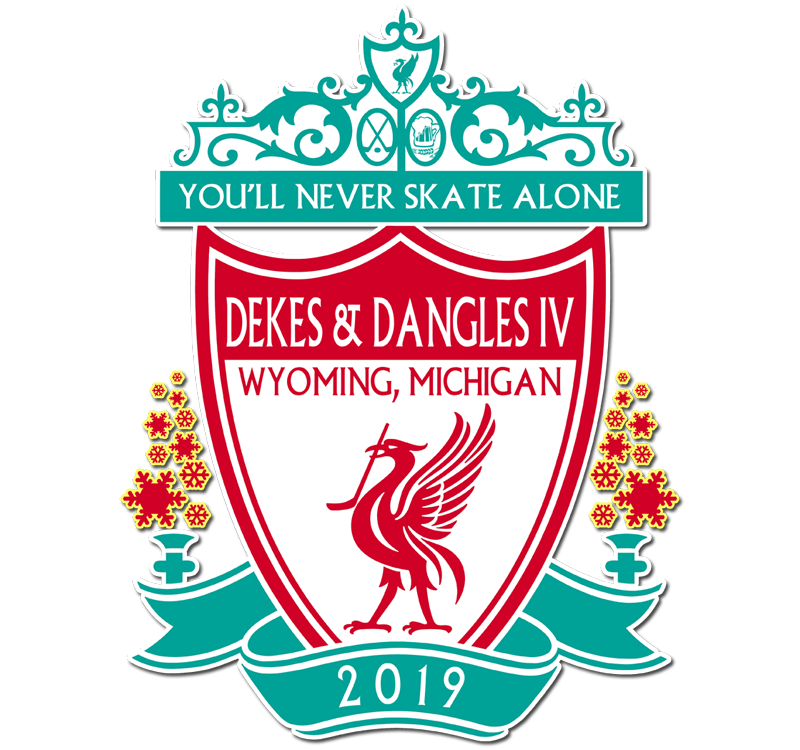 All games will be held at For the Kids Gymnastics at 1391 Gezon Pkwy, Wyoming, Michigan.
All games are played 3-on-3. Six (6) person roster total. There will be a center ice face-off to start each half. Games shall be forty (40) minutes long consisting of two (2) sventeen (17) minute halves with a four to five (4-5) minute break between halves. A two (2) minute warm-up is allowed before the game. All periods are "Run Time".
Entry Fee Options
Team entry fee is $325 and a team "gift" to be determined by the Commissioner.
Guaranteed 3 Games
Entry deadline, is the Friday prior to the weekend you wish to participate in. (Team Registration)
Age Restrictions
All players MUST be eighteen (18) years of age as of the date of your tournament. Teams/Players must also follows any additional age requirements for their respective bracket. Players unable to produce a photo ID, at any point, cannot participate until the ID is provided to a tournament director.
Tournament Scheduling
Tournament officials reserve the right to determine schedule and competitive divisions based upon age, player ability, experience or other factors.
Each team will be guaranteed three (3) games. All teams will play at least one (1) game on Friday. Your remaining games will be played on Saturday.
Sunday is strictly available for rescheduling purposes only. In the event of poor ice conditions or weather complications your games will be rescheduled in the same format/time on the same Sunday of your tournament weekend. In the event that the weekend tournament must be cancelled, your tournament could be POTENTIALLY rescheduled to the dates listed above.
Refund Policy
If a weekend needs to be cancelled you WILL BE REFUNDED for any games LESS THAN your guaranteed three (3) games NOT played. Your team will receive $100 back for each of your game under three (3) that is cancelled. Refunds will be issued to the team Captain ONLY.
"Hoser Rule"
The LOSING team is responsible for cleaning the ice after your game. There will be assistance from Dekes & Dangles staff. Any players on the losing team that refuses to assist in post game clean up will forfeit their right to play in their next scheduled game.
Penalties & Procedure – "A Gentlemen's Game"
We will be running these games under "Gentlemen's" rules, more commonly known as "Call Your Own". There will be an off-ice-official present at all games. His/Her input is the "Final Word" if he/she is required to assist.
Minor penalties: Hooking, holding, tripping, interference – typical hockey penalties — Offended team takes possession of the puck in THEIR defensive zone.
Major penalties: All offenses of a physical nature – including, but not limited to high sticking, cross-checking, elbowing, roughing etc – will result in a GOAL and possession of the puck in THEIR defensive zone.
Abuse of off-ice officials – including, but not limited to – yelling, swearing or arguing – will be considered a MAJOR penalty.
The players causing the major penalty will be ejected from the game. If the player refuses to leave the playing area a GOAL will be rewarded for EACH minute the player is present at or around rink side. I player that leaves respectfully may play in future games, if not, they will be removed from the event, no subs allowed.
Additional Rules
Your team must be within the AEA Salary Cap limits for the bracket you are participating in.
The TOP/FIRST name on the bracket sheet for your game is the HOME team and they have choice of bench. They are to also wear DARK jerseys for their game, the visiting must wear WHITES.
All players are required to wear (HECC approved or otherwise) helmets and proper hockey skates. Helmets must include a chin-strap that shall be properly worn at all times. Other protective equipment is optional but highly recommended.
Each team will have no more than six (6) players on a roster. No fewer than four (4). Minimum number of players to begin a game is three (3). No subs to fill in for vacant players, a team must play with a short bench.
There will be a five (5) minute grace period if you do not have at least three (3) players present at game time. After this five (5) minute grace period has been exhausted a forfeit win will be awarded to the team ready to play.
No goalies, goalie equipment or goalie sticks allowed. No player can serve as a designated goalie. Each player on the ice is expected to play the entire ice surface.
Players shall not fall or lay on the ice in an effort to protect or block the goal area. Violation results in minor penalty.
There may be off-ice officials to assist in game scoring, penalty calls, puck replacement etc. Off-ice officials will have final say in all game play decisions. Off-ice officials reserve the right to give MAJOR PENALTIES to the player(s)/teams whose play is detrimental to the "spirit of the games."
There will be no fighting. Players involved in on or off ice fights will be expelled from the tournament with no replacement and no refund of player entry fee.
There is no checking. Checking offenses result in a minor penalty. Flagrant fouls result in major penalty.
No slap shots. Slap shot fouls result in a minor penalty to the offending team.
Lifting the puck above knee level is prohibited. Violation results in loss of possession.
All goals must be scored from the offensive side of center ice.
No offside calls. No icing calls.
Following each goal, the team that scored will announce the score in a clear and precise manner. This includes goals awarded on a PENALTY SHOT.
Half-ice spacing following a goal or penalty called. Once a player makes a play/skate towards their offensive half of the ice, the defending team my cross the center line.
All games are played running time. Substitutions are made "on-the-fly" or while a new puck is being put in play. No stoppage of play following goals, penalties or penalty shots.
Players can play for only one team. Rosters will be confirmed by start of games on tournament's first day.
If the puck is "unplayable" apply "Gentlemen's Game" theory and determine possession based on who directed the puck out of the playing area. Once possession is awarded, defending players should stand two-stick lengths away to begin play.
Overtime will be a one (1) goal sudden death period.
Double Elimination Tournament:
Win and move through your bracket until the Finals
Lose (1) one game and play through the Loser's Bracket until the Finals
Loss you first (2) games and play in a Bender's Bracket Championship Game
Once you lose (2) games, play in the Bender's Bracket Championship or win the Championship the tournament is over.
4 team brackets will be round robin play with the best two (2) teams playing in the finals with the finals being double elimination.
Illegal Players & Teams:
If the tournament director(s) determine that an illegal player has participated in the tournament, the player(s) shall be immediately removed from the tournament and the team using the ineligible player(s) will receive a 0-1 forfeit loss in each of the games the illegal player (s) participated in.
Illegal players are any participants that:

Violate the minimum age requirement for their bracket
A team participating in a bracket below their skill level (without permission to do so, better players should play to the level of the game)
Participate on two team rosters

The tournament director(s) reserves the right to make any decisions regarding tournament rules, format, etc. for the overall good of the event. Tournament directors have the right to refuse the right to any player from participating in any tournament games. In all cases this decision shall be final.
Sponsors and all tournament staff are not responsible for lost or stolen items.
By participating in this event you accept any and all risk involved with participating in this event. You understand that For The Kids Gymnastics, promoters, sponsors and staff members are not responsible for any injuries or death that may occur while participating in this event.
*All rules are subject to change without notice