Dekes & Dangles, Crest & Banners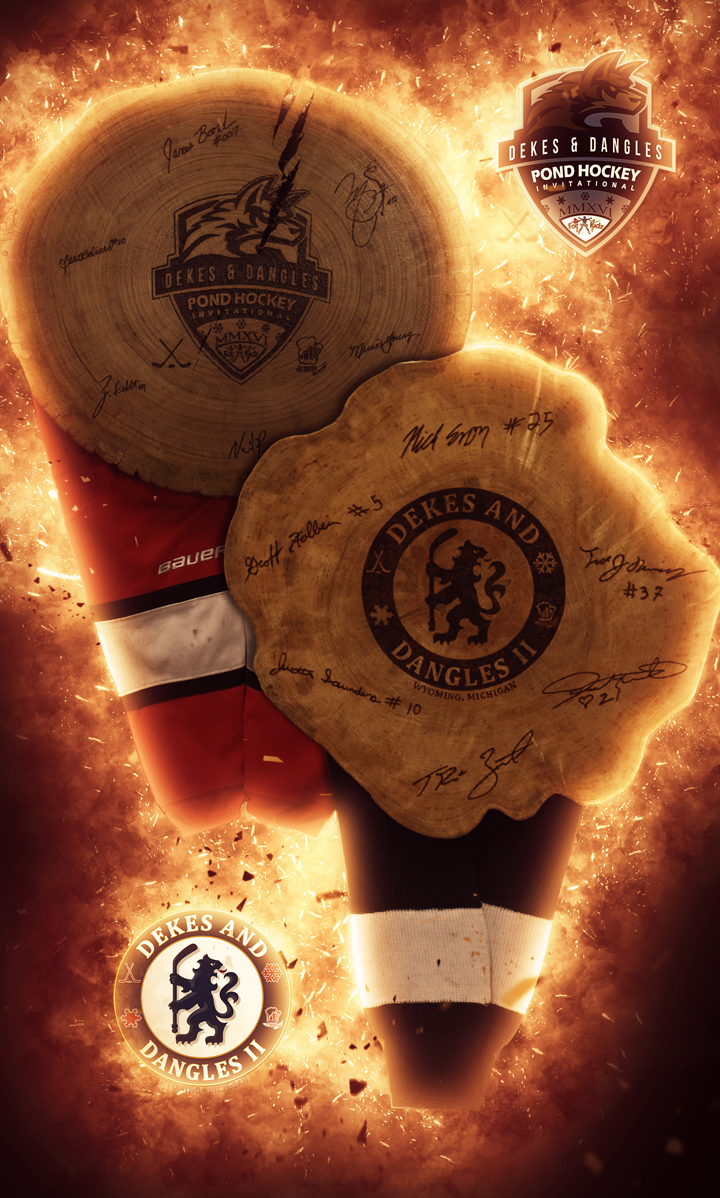 Dekes & Dangles is something special. We want this event to be unique and something to be shared among our friends, family and teammates. We want you to feel like you just had the best pond hockey tournament experience of your life. In order to do this we have to think outside the rink . . . As many of you know Brent Belanger (Commissioner of AEA) really enjoys movies, especially something inspirational and motivating. Inspired by the movie 'The Barkley Marathons' and the hit television series 'Game of Thrones' he has derived something new to add to the Dekes & Dangles weekends.
The logos for the event are recreations of some of the best European futball clubs around. With this ground work set, we needed to add to it. The first thing that needed to happen was a meeting between Brent and long time friend Ken Waayenberg. They sat down and worked out a concept that would deliver something special for these events. The idea was released at Hockey Hold'em II on August 19, 2016 at Southside Ice Arena. The goal was to create a 'home' for our champions, a place for them to hang their team's banner to be viewed by all of those that play and visit the rink at For the Kidz Gymnastics, designed and setup by Joshua Vance. The final piece would be a wood slab with the logo burned into it for that year's tournaments, the names of all of the victors would also be burned into the trophy, and finally we would attach a pair of hockey socks from the champions to be fastened to the wooden crest. The final piece is beautiful (visit the gallery below to see all of the crest and banners).
Below you will find the trailer to 'The Barkley Marathons' and we strongly suggest and encourage you all to watch it and the full movie as well. Once you do, you will see what Gary Cantrell brings to the table as the Race Director of his events. This man is brilliant, funny and simple. He delivers something much more than a marathon, he delivers a once in a lifetime opportunity to these participants. He also has a very unique entry fee process, which gave us an idea for these tournaments. The HBO television series 'Game of Thrones' has something to add to the table as well. With all the castles, kings, queens and house banners. Yes, 'house banners' is what your team's hockey socks will represent.
Starting at Dekes & Dangles II all teams that desire to play in the event must bring a pair of hockey socks to the tournament as part of your entry fee. These hockey socks will be your banner, your symbol of being enshrined into the Dekes & Dangles lore. The hockey socks can be old or new, but they must be presented with your team's entry fee.
Dekes & Dangles Crest & Banners
5 images