Hockey Hold'em IV - 2018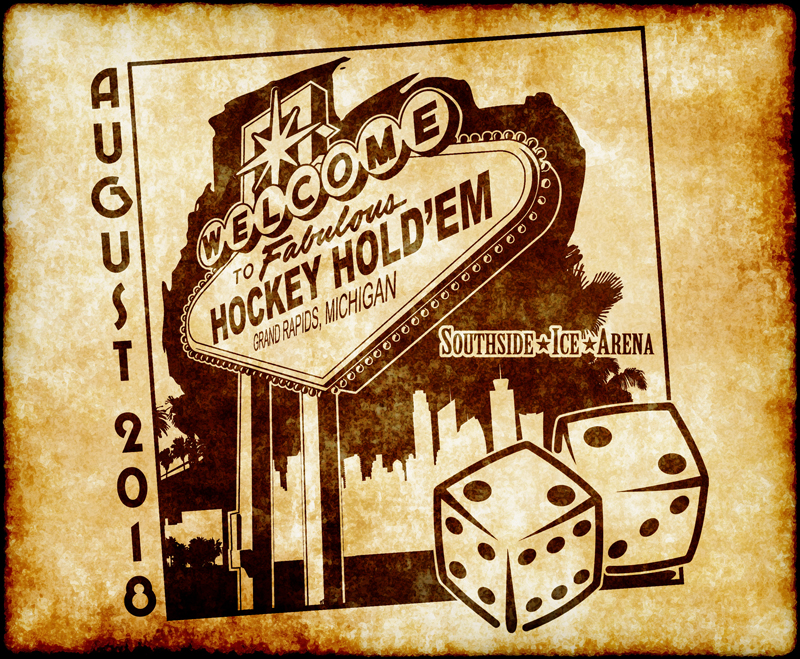 Coming to Southside Ice Arena in August 2018.

Date: August 17, 18 & 19, 2018
Location: Southside Ice Arena
Tournament Colors: TBD
Number of Teams: 6
Featured Hockey Hero Team Names: TBD
Championship Game: TBD (?) over TBD (?)
Bonus Chips & Bonuses: Lucky 7's (?), Aces Wild (?), Lady Luck (?), Cowboy Up (?)
10 games played, TBD avg. goal differential
1st Period: TBD
2nd Period: TBD
3rd Period: TBD
Overtime: TBD
Total Goals: TBD
Luke Jonkman: TBD
Gabe Bolen: TBD
Adam Lussier: TBD
Nate Petter: TBD
Shannon Hole: TBD
Jordan Kubiak: TBD
2018 chip leaders & champions:
TBD

consecutive championships
Rani Vitali (3)
all-time leaders, lady luck
Monique Squiers (2)
Catie Dunne (1)
Chaslyn Duffek (1)
Nichole Werkema (1)
all-time leaders, shutouts
Luke Jonkman (2)
Gabe Bolen (1)
consecutive games
Alex Kellogg (12)
Rani Vitali (12)
Jabez Waalkes (12)
Craig Fulco (11)
Adam Lussier (8)
Andy Skiver (8)
Bob Kling (8)
Jim Kellogg (8)
Ryan Fitzsimmons (8)
Ryan Kooima (8)
Sarah Vulpetti (8)
all-time most chips
Alex Kellogg (12800 Chips, 2017)
(as of August 20, 2017)
Hockey Hold'em pays tribute to the great players of the NHL. Each round will feature a set of greats from a specific team. All images are done/used out of respect to the heroes of our lifetime.

tournament location