The Kegger Cup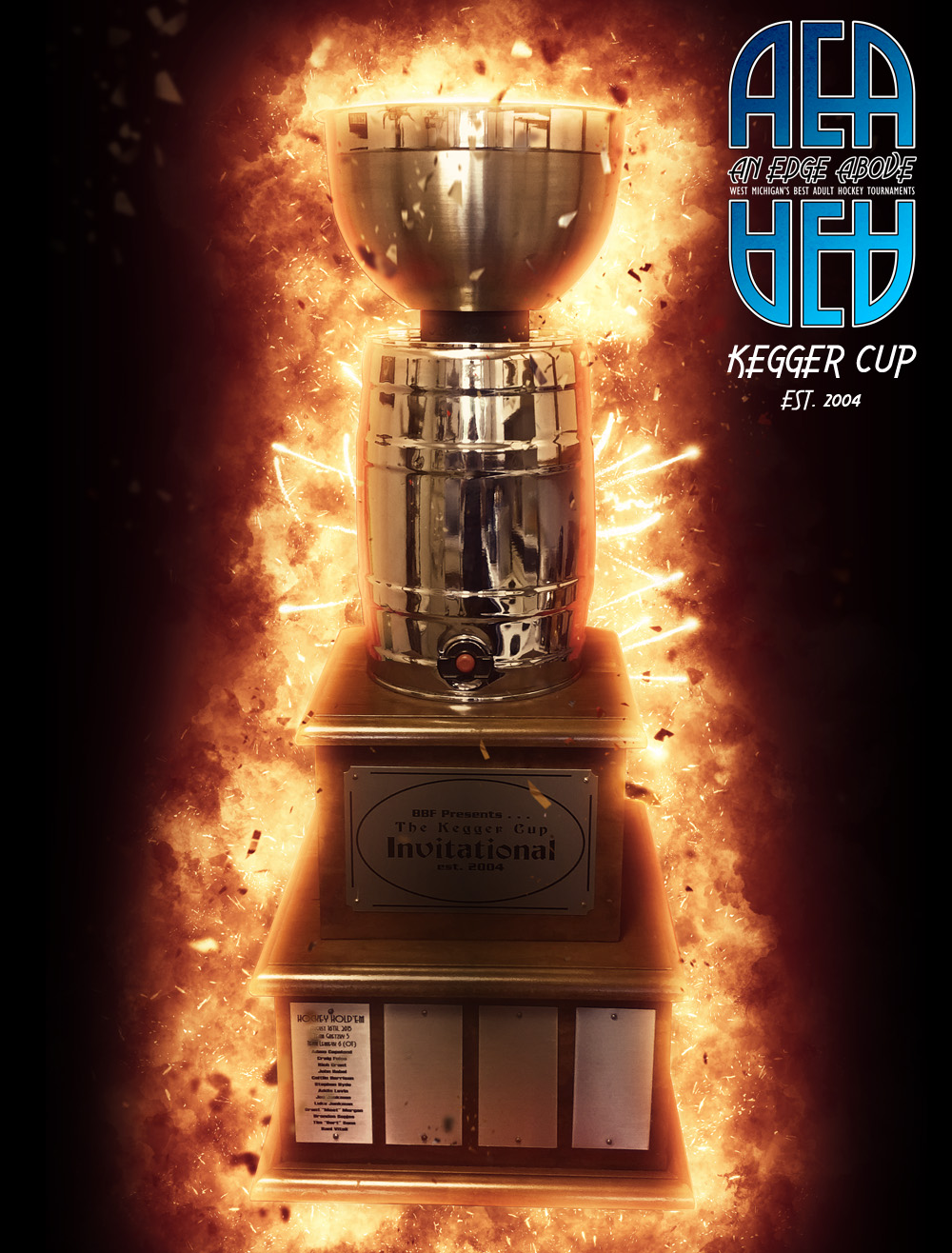 The 'Kegger Cup' was established in 2004, and was the center piece between two teams; one from Grand Rapids, the other from Muskegon, Michigan. The rivalry was short lived with intense battles being waged on the ice between the two. Through these games and events friendships were forged for a lifetime.
The games quietly came to end, lives changed, families grew, and the Kegger Cup went into storage. Almost forgotten in the past, until a new calling arose, new life was inhaled into the historic cup. The Kegger Cup was pulled from it's darkened tomb to be reborn with new purpose. It now calls out to those that have decided to enter the rink alone, to be placed on teams with others, to compete with and against them all . . . just to get their name on this historic piece of hardware.
The Kegger Cup will not be altered in any way, besides adding new names to the panels. There is history with the Kegger Cup and to keep that past remembered the plates will not be removed or altered from the cup. New stories will be added to the Kegger Cup with new champions being crowned every year.
When you win at Hockey Hold'em your name will be placed upon the historic piece of hardware. Being a winner means you may touch the cup, hold it, because you have earned it.
For those that fall short, please have respect to those that have bled, broken bones, and fought for the right to have their names graced upon it. That means enjoy the Kegger Cup from a distance, you haven't earned the right to embrace it . . . yet.
The winners of the Kegger Cup may take it on the road and share it with their friends and families over the course of the year until the next Hockey Hold'em tournament is played.
were we the originals?
With a little research, we "believe" this is one of the very first, if not the first chromed beer keg used for a trophy in rec-league, amateur or professional sports. They're others that are similar, but we have yet to find documentation of any beer kegs being used as a trophy prior to 2004. The closest we were able to find is the 'Keg of Nails' that is the prize of the Universities of Cincinnati and Louisville's football teams; established in 1929. The trophy is a replica of a keg used to ship nails. If you find one older than ours, be sure to share it with us.
creators of the cup
The Kegger Cup was the idea of Brent Belanger, Fred Iacovoni and Brian Sikkema. The cherry wood base design and construction was done by Dustin Ruth. The over-all construction, and chroming of the keg was done by Rick Belanger. Plates done by Holwerda & Snoap of Grand Rapids, Michigan.
dimensions of the kegger cup
Base: 12.5" x 12.5" x 7"
2nd Tier: 9.5" x 9.5" x 7.5"
Overall Height: 29"
Weight: 17lbs
names on the kegger cup
Austin Anderson, Jeff Baker (2), Mike Baker, Jarek Bartnik, Brent Belanger (3), John Britton, Luke Britton (2), Shane Buckner, Jon Byker, Brian Colella, Adam Copeland, Jeff Cross (3), Tom Cross, Annie Devaney, Joe Dombrowski, Roger Dubuc (3), Chaslyn Duffek-Gofton, Derek Edlund, Walt Erickson, Phil Ericson, Mike Fallon, Fred Finn, Brian Finos, Brian Fitzsimmons, Craig Fulco (2), Devin Gougeon, Rich Grant, Ben Greemann, Kip Griffin, Kyle Griffin, John Habel (2), Steve Hannahs (3), Caitlin Harrison, Mark Hasson, William Hosford (3), Stephan Hyde, Fred Iacovoni, Ryan Jarman, Al Johnson (3), Joe Jonkman, Luke Jonkman, Tony Karczewski, Aubrey Keis, Alex Kellogg, Jim Kellogg, Robert Kling, Steve Kreuger, Mike Lavallae, Addie Levin, Adam Lussier (2), Joe Mierzwinski, Lindsay Mierzwinski, Aaron Mathis, Brant Morgan (2), Todd Morox, Denise Morrison, Nick Munson, Jeff Musser (3), Pete Musser (2), Joe Mylenek, Andy Norkus (5), Terry Paquette, Chad Parker (2), Matt Peacock, Andy Porter, Dennis Porter, David Richards, Casey Riley, Neil Roelofs, Steve Rohen (2), Todd Robinson (2), Tim Sena, Timothy Schullo, Jordan Schwartz, Andy Skiver, Brian Sikkema (2), Jon Siterlet, Brandon Sopjes, Kevin Stafford, James Standley, Mike St. Martin (2), Rick Tucker, Dan Turcotte, Seth VanAndel, Brian Van Der Heide, Jon VanElzenga (4), Rani Vitali (3), Jabez Waalkes, Tom Wendt, Nichole Werkema, Rebecca Wheeler & Tom Winegar

tournament location