Silver Puck Challenge IX - 2013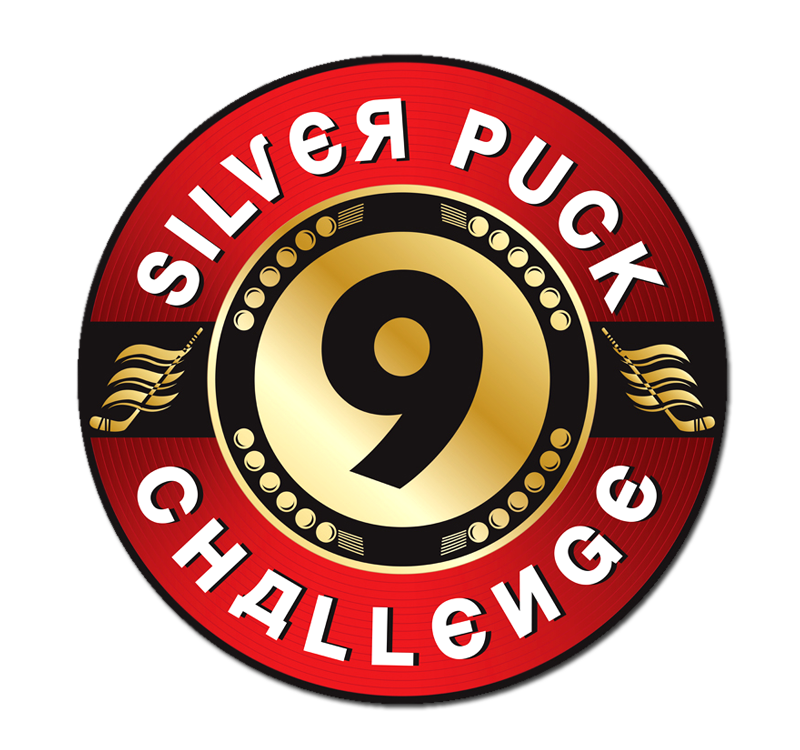 Silver Puck Challenge IX and 2013 would be a great and very sombering year. The Silver Puck Challenge would also have it's first double weekend month. We were also be unable to fill the A Bracket and have to make some tough decisions on where to put annual A Bracket contender Gong Show (Jon Byker, Competitive Edge). SPCIX grew in size over SPCVIII, growing the tourney to 28 teams, six teams more than 2012.
B+ & B Brackets
June 7, 8 & 9, 2013
SPC (Joe VanValkenburg) would go back and forth with the Gong Show, it would take overtime and a shootout to bring home the cup for SPC! The Gong Show would come from the A Bracket of SPCVIII, since they were the only returning team from that bracket. The Gong Show would be made up mostly of the alumni of Davenport University's National Championship players. A power house in the Silver Puck Challenge tournaments, they would not go quietly into the night. SPC would find themselves in a hole all game long until they were able to capitalize in the closing moments and send the game to overtime. It would finally be settled in the shootout, where Daniel Leahy would need to come up big in net. His goalie work would shine through and SPC would go back-to-back and get the epic win and hold claim on one of the greatest wins in Silver Puck Challenge history. The winning of the cup brought a great end to an emotional weekend, as the weekend was dedicated in to the memory of an American hero, David J. Warsen. God Bless. The Kentwood boys of SPC played hard, and won this cup for you.
Last but not least, this weekend would also belong to Gippers (Brad Stegenga, S&S Carpet, San Marcos) as they would finally claim their first Silver Puck Challenge title with demanding win over the Sh!t Show (Steve Kreuger)! After many repeated attempts to bring home a Silver Puck Challenge championship these guys finally got their moment to drink from the cup!!! Luke Jonkman would win his first AEA title and look to add to it and become a piece of AEA history.
COED & 30+ Bracket
June 14, 15 & 16, 2013
It was the official launch of the 30+ Bracket at Silver Puck Challenge, and the men from RVO (Brant Morgan) would take the inaugural cup from the fingertips of Charlie Tango (Wanger Tanger) in an overtime shootout. RVO would claim their second Silver Puck Challenge title . . . and leave Charlie Tango exhausted and looking to the future.
The COED division would also see a new champion in it second running, with VanDam (Neil Roelofs) defeating Jabackass (Jabez Waalkes). It would be an struggle for the guys on VanDam to get through. Team captain, Neil Roelofs slept through his alarm and left his team with only three (3) men to rotate through the game. The game would get even more difficult as Adam Copeland found himself in the sin bin more than on the ice. Brent Belanger and Zach Feldt found themselves covering a lot of ice to make up the difference/lack of male skaters. Brent Belanger would score the game tying goal in the closing minute of the game sending it to an overtime stanza. Karen Sloboda would seal the net and keep Jabackass at bay, buying enough time for Dana Berkeley to bury the game winner in overtime. It would be a 5 to 4 win for VanDam.
Brent Belanger would also become the first player to win back-to-back weekends in Silver Puck Challenge history. He won the previous weekend with SPC in the B+ Bracket.
It also marked the last time our good friend, SPC assistant and originator of the 30+ Bracket, Jammin' John English, would be in attendance. John never got the chance to play in the bracket he created. He was ill this weekend, but still made time to help us out, visit and spread all of his positive energy, smiles and laughter he could. John would lose his life in a boating accident on June 30, 2013.
On a personal note, thank you John, thank you for everything. I love and miss you more than words can express. You are a shining example on how to live life to the fullest. You will be remembered forever.
Date: June 7, 8 & 2013 and June 14, 15 & 16, 2013
Location: Patterson Ice Arena
Tournament Colors: Baltika #9 Extra Inspired (Red & Gold)
Number of Teams: 28 Teams (6 B+ Bracket, 8 B Bracket, 8 COED Bracket, 6 30+ Bracket)

B+ Bracket Champion: SPC (5) over Gong Show (4) Overtime/Shootout Final
B Bracket Champion: Gippers (7) over Sh!tShow (4)
COED Bracket Champion: VanDam (5) over Jabackass (4) Overtime
30+ Bracket Champion: RVO (3) over Charlie Tango (2) Overtime/Shootout Final

tournament location