Tron Pond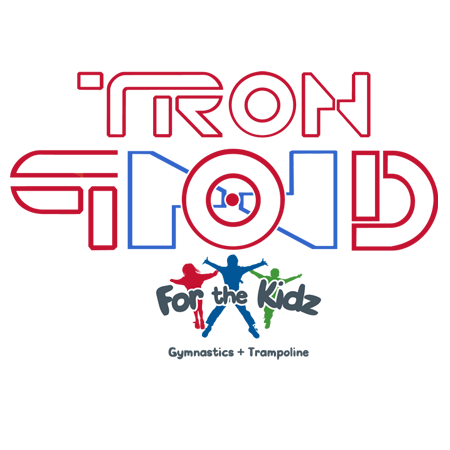 Welcome to Tron Pond home of the Dekes & Dangles Pond Hockey Invitational!!! Tron Pond is located at For the Kidz Gymnastics on the north side of the road on Gezon Parkway, just west of Clyde Park. Tron Pond was first built in the summer of 2015. The rink is set back behind the gymnastics center in a rustic/wooded environment. There are two heated cabins for participants and guest to change/warm up in during the long tournament days. We also have a "hot zone" with a fire pit and a wood stove. The lighting of the rink is special to the atmosphere, the bulb style lights that hang above and around the rink make it a fun and inviting environment. LED lights in the ice add a special affect to the ice as well.
open skate/hockey rules
Below you will find a complete list and process of what you should expect when visiting Tron Pond.
Check our facebook group to see our current status: Click Here
Sign waivers and pay drop in fees to the front desk or the attendant at the rink.
Helmets are required
No sticks or pucks during open skate times.
Retrieve pucks if they exit the rink's surface.
Adults assist in shoveling snow off periodically.
$5.00 per/visit | Cash Only
rink dimensions & process
Dimensions: 85' x 55' (Approx.)
Volume: 85' (Long Diameter) x 55' (Short Diameter) x 5" (Avg. Depth) = 14,571 Gallons (Approx.)
Surface Area: 4,675'2 (Approx.)
Perimeter: 280' (Approx.)
Flooding: Bulk water added. Goal is too simply fill the rink with water.
Once the rink is filled we need at least 72+ hours of temperatures below 32°F to freeze the water.
Layering: The process of putting on thicker layers of water to build the base from the top down. Water is spread out through the entire sheet of ice and set to freeze.

* 32°F - 25°F: 2 Hours set, before adding a new layer.
* 24°F - 20°F: 2 - 1.5 Hours set, before adding a new layer.
* 19°F & Below: 1 Hour or less set time, before adding a new layer.

Smoothing: The process of getting the ice prepared for skating. Thinner layers of water is spread through out the entire sheet of ice, dragging a towel behind with the walk behind zamboni, or using the drivable mini zamboni is necessary.

* Shorter freeze times due to the thinner layers being applied.

Clearing: The process of removing snow either because of weather or skating maintenance. Must be done prior to any Layering or Smoothing applications.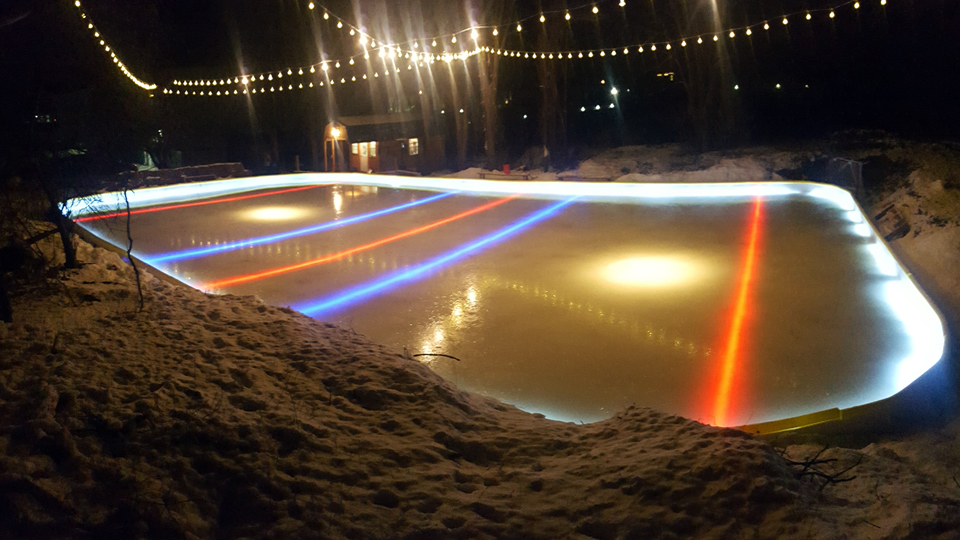 seasonal check list
March (Packing & Clean Up)
June (Drop Off Trophy to be Finished)
August (Pick Up Finished Trophy)
October (Setup Border, Benches)
November (Setup Tarp & Flood Rink, Layout Pathways, Collect Pallets)
December (Clean Cabins, Layering, Get Annual Trophy, Sponsors & Printing)
January & February (Present New Trophy, Tournament Season, Layering & Smoothing)
Tron Pond Gallery
6 images